Back To Our Services
There are two main types of garage door springs that you may see in your home garage. These include torsion springs and extension springs, both of which are quite common. Extension springs are placed alongside the garage door tracks, while a torsion spring will be placed overhead the garage door. Both have their own pros and cons, but torsion springs are generally considered to be the safer and more efficient option these days for residential garage doors.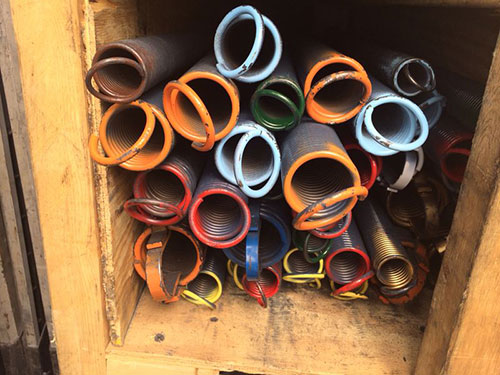 . If you are a property owner, you will need to pay attention to any small repairs that your garage door springs may be in need of from time to time.
When springs break down or need replacement, there are numerous garage door springs services that you might be in need of. Our team of professionals offers the following services:
* Broken spring replacement
* Broken spring repair
* Torsion spring repair
* Extension springs repair
* Spring repair and maintenance
* Fix garage door spring and cables
* Replace torsion spring
It's difficult for most homeowners to determine what needs to be completed upon looking at their garage doors on their own.
For the best results, you will want a contractor to come out to inspect the damage for you. This way, they will be able to make a diagnosis and determine whether repairs or a full replacement of your springs will be necessary.
Although it may be tempting to turn to the internet for more information about garage door springs and attempt to repair them on your own, this is ill-advised unless you have specific experience working with garage doors. They can be heavy, and dangerous. Torsion springs are the safer type of spring, however, if you are thinking about working with them on your own. However, because extension springs are so prevalent in homes in this area, it's best to speak to the professionals to get the job done safely and efficiently.
Back To Our Services